Underage Drinking
Alcohol is the most commonly used and abused drug among youth in the United States.
The penalties for giving alcohol to minors or allowing alcohol to be consumed on your property include fines up to $1,000 and /or up to 6 months imprisonment.
Over time, excessive alcohol use can lead to the development of chronic diseases and other serious problems including:
High blood pressure, heart disease, stroke, liver disease, and digestive problems.
Cancer of the breast, mouth, throat, esophagus, liver, and colon.
Learning and memory problems, including dementia and poor school performance.
Mental health problems, including depression and anxiety.
Social problems, including lost productivity, family problems, and unemployment.
Alcohol dependence, or alcoholism.
Drinking in adolescence can be harmful to young people's physical development, particularly brain development.
Adolescence is a critical period in a young person's development towards adulthood. What they learn during their teenage years, and how they learn it, can set the young person's path for later life. Alcohol consumption during this time can bring about learning difficulties, memory problems and other problems later in life.
Signs of Use & Withdrawal
Mood changes: flare-ups of temper, irritability, and defensiveness.
School problems: poor attendance, low grades, and/or recent disciplinary action.
Rebellion against family rules.
Friend changes: switching friends and a reluctance to let you get to know the new friends.
A "nothing matters" attitude: sloppy appearance, a lack of involvement in former interests, and general low energy.
Alcohol presence: finding it in your child's room or backpack or smelling alcohol on his or her breath.
Physical or mental problems: memory lapses, poor concentration, bloodshot eyes, lack of coordination, or slurred speech.
What to do at home
Develop Family Rules About Youthful Drinking. When parents establish clear "no alcohol" rules and expectations, their children are less likely to begin drinking. Although each family should develop agreements about teen alcohol use that reflect their own beliefs and values, some possible family rules about drinking are:
Kids will not drink alcohol until they are 21.
Older siblings will not encourage younger brothers or sisters to drink and will not give them alcohol.
Kids will not stay at teen parties where alcohol is served.
Kids will not ride in a car with a driver who has been drinking.
Set a Good Example. Parents and guardians are important role models for their children—even children who are fast becoming teenagers. Studies indicate that if a parent uses alcohol, his or her children are more likely to drink as well. But even if you use alcohol, there may be ways to lessen the likelihood that your child will drink.
Some suggestions:
Use alcohol moderately.
Don't communicate to your child that alcohol is a good way to handle problems. For example, don't come home from work and say, "I had a rotten day. I need a drink."
Let your child see that you have other, healthier ways to cope with stress, such as exercise; listening to music; or talking things over with your spouse, partner, or friend.
Don't tell your kids stories about your own drinking in a way that conveys the message that alcohol use is funny or glamorous.
Never drink and drive or ride in a car with a driver who has been drinking.
When you entertain other adults, serve alcohol-free beverages and plenty of food. If anyone drinks too much at your party, make arrangements for them to get home safely.
WHAT WE OFFER:
A prevention tool that creates a visual-simulation of the impairments created when consuming alcohol. Fatal Vision Goggles are used by Prevention Specialist staff in schools and regularly utilized by Coalition staff at community events and presentations.
Hundreds of pinwheels are placed on school grounds representing underage youth who die each year due to alcohol. Especially around homecoming a prom times this is a powerful visual for students driving to and from school as they are challenged to celebrate well by staying sober!
Part of a state-wide initiative to reduce underage drinking by discouraging adults from buying alcohol for underage drinkers. Coalitions partner with youth volunteers and local alcohol-selling establishments to place brightly colored stickers warning of the legal penalties adults face for buying alcohol for underage drinkers on cases of beer and other alcoholic products. (Any volunteer under the age of 21 must have permission from a parent or guardian to participate.)
These event promote serving non-alcoholic "mocktails" at parties and family gatherings as a festive alternative to alcoholic beverages. This helps change attitudes and norms around drinking by showing that youth can have fun without alcohol.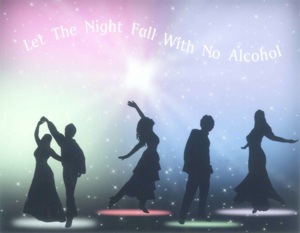 An initiative where students design postcard-sized advertisements that promote healthy after-prom activities and staying sober. The student with the winning tuxedo card receives a prize and their card is distributed to local businesses that serve prom-goers to be included with prom-related purchases.